The Martino Customer Experience
At Martino, customer satisfaction is always our number one priority. With high quality products and exceptional warranty programs, we are committed to the ultimate service experience.
Introduction to Your HVAC System
Martino HVAC wants to ensure all of our new homeowners are comfortable with their HVAC system. Watch this video to see how the systems are designed and installed and to also learn about our Complimentary Home Visit Service after you move into your home.
Unfortunately, there are heating and air conditioning companies out there that will take advantage of you by charging you for parts that are covered under the manufacturer's warranty.
Air Conditioning Installation
Martino HVAC wants to ensure all our customers are comfortable with the AC installation process—this is what you can expect from us when we replace your cooling system.
To guarantee you the best possible service or installation experience, all of our technicians are certified and have undergone a complete background check. Martino Heating & Air Conditioning is proud of our track record in the GTA and Quinte Regions.
Locally owned and operated
Certified technicians
Licensed professionals
Daikin Comfort Pro
Best Warranties in the industry
30 years in GTA and Quinte Regions
Peace of Mind
Regular inspections and cleanings keep your heating and cooling systems running safely and at peak efficiency. They also keep your manufacturer warranties valid.
Licensed Technicians
All of our technicians are fully licensed, trained professionals. You can trust that your HVAC system is in good hands.
Flexible Coverage
Modify your plan so that it covers what you need covered.
Flexible Payment Options
Choose a monthly payment plan that automatically renews every year or pre-pay for annual savings.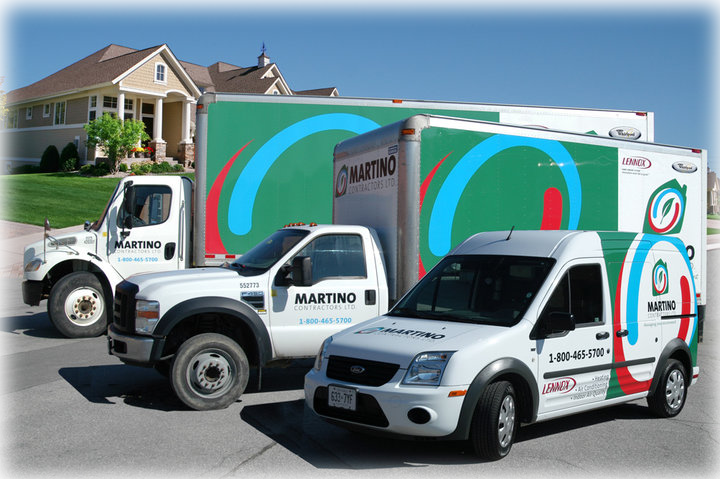 Proudly serving the GTA and Quinte Regions for 30 years.
Martino HVAC has been servicing the Greater Toronto Area since 1987 and has been providing reliable heating installation and repair to residential furnaces and air conditioners.
Whether you are looking for Goodman, Daikin or Napoleon brand, we have a large selection of high efficiency furnaces. One of our professional representatives can help you choose the right unit for your needs and budget, and our expert installer will work quickly and efficiently to install it correctly.
Our technicians are fully licensed, trained and experienced professionals. Any furnace repair you might need will be in good hands with Martino HVAC. Remember, regular inspection and furnace service will keep your heating systems safe and efficient for years to come and could prevent costly furnace malfunctions. We are proud to serve the GTA including Etobicoke, York, East York, North York, Scarborough, Mississauga and more! For our full list of service areas click here.
Martino HVAC serves the GTA along with Durham, Halton, Peel, York, and Quinte & Kawartha regions. We provide reliable cooling installation and repair to residential, commercial and industrial customers. Etobicoke York East York North York Scarborough as well. For full list of service areas click here.
With a wide service area, the needs of our customers are varied. Some want a central air installation, while others need the flexibility of a ductless option. Whatever option you choose, rest easy knowing all our installers are fully licensed, factory trained, insured and committed to providing the best customer service.
If you require any air conditioner repairs, don't hesitate to contact a Martino HVAC specialist. We will dispatch a technician as soon as possible to diagnose and provide solutions to you cooling problems. Annual air conditioner service to check and tune up your unit could prevent costly future repair bills.